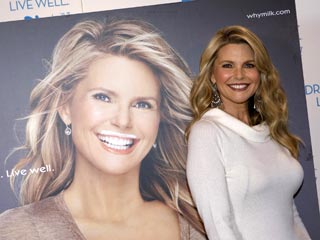 PEOPLE MAGAZINE – 1/18/09
After her struggles of 2008, namely her messy split from ex-husband Peter Cook, Christie Brinkley is only looking to the future.
"I want to seize the day and take advantage of this year," Brinkley told PEOPLE at the Sundance Film Festival in Park City, Utah, where she unveiled her new "Got Milk?" ad to raise awareness and reintroduce Americans to milk as nature's wellness drink on Friday.
"I am so energized," she said. "I am really looking forward to the inauguration. I see this as a huge time for opportunity. This is the time for change. I am so appreciative of everything I have."
At the event, the supermodel and mom of three – to daughters Alexa, 23, and Sailor, 10, and son Jack, 13 – got a bit emotional looking back at her two previous "Got Milk?" ads. "My ad with my children Alexa and Jack is especially meaningful to me because it served as Jack's birth announcement! I could just tell all my friends to pick up PEOPLE magazine and turn to page 58!"
Aside from unveiling her new milk campaign, Brinkley has a slew of other projects, including working on an organic line of bedding and bath products. "I'm also designing a line of jewelry – eclectic but affordable," she said.
So, what's her secret to looking great at age 54? "Nutrition has always played a huge role in my life," Brinkley said. "I became a vegetarian when I was 13 and then got my entire family to become vegetarians. And I have always been active my whole life. I genuinely enjoy sports and I spend time on my total gym."